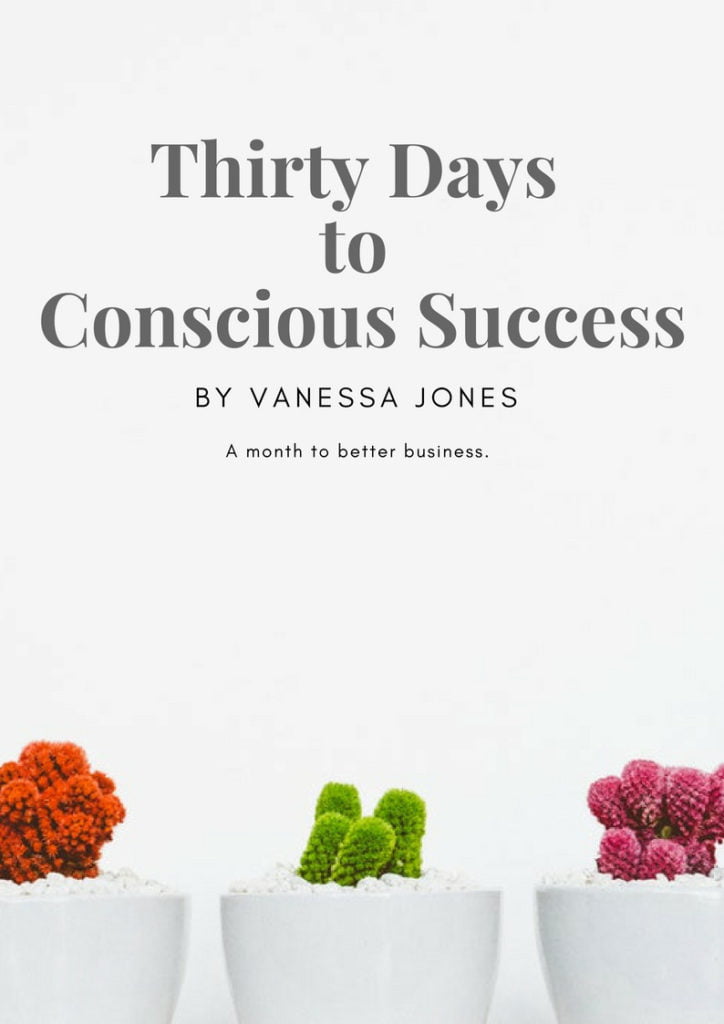 ​The Thirty Days to Conscious Success book is a marketing for small business step by step workbook. It was written specifically for those of you who are serious about success in your business.

It's more than a book. It's a thirty day program to eke out creative ideas and flood your marketing strategy with easy to implement activities that will heighten the reach of your business or services.
Useful step by step guide
Packed with useful marketing information and thought generating activities. What's more, is that this guide will take your promotional efforts from dull to dazzling in only a month. The mindful exercises and in depth exploration will also prove to be inspirational and transformational journey.

Each activity is cleverly crafted to connect you with your inner self. As well as truly have an impact on your business.
Written with creative and small businesses and services in mind, you will use this book as a personal course to creating and implementing a marketing plan.
Thirty Days to Conscious Success is available in pdf, Kindle and paperback.
Written by author, copywriter, business owner and marketer, Vanessa Jones. Who has a myriad of marketing experience working with clients across the world in corporate, creative and wellbeing arenas.
You're just a month away from business success!
---
How to use this marketing book
You can read the book in advance if reading brings you pleasure and then refer back to each day's activity. Alternatively, you can read one chapter per its corresponding day (or the day before if you're the organised type). You know yourself better than anyone so choose a way that works for you.
When to start reading this marketing book
The next time the calendar flips over to the first of the month. That is the very first day of your Thirty Days to Conscious Success. Don't start mid month! Don't start on the second of the month! Start on the first day of the month because the first day has very symbolic meaning and this whole book is created around that power.
A month is not just a tidy time bracket to undertake some great marketing activities also has symbolic and cyclical meaning. It coincides with the powerful lunar cycle and a woman's cycle— two of the most creative and mighty phases of all time. It conveys a sense of full circle, completion and journey.
If you're undertaking the Thirty Days to Conscious Success during February, just keep going after the 28th or 29th day and bleed into the next month. Consistency is one of the keys to your success in completing and reaping the benefits of the month.
You don't need to go over the thirty days, however. This is your magical month and we want to make it special— not something that burns you out. By all means, keep up your regular marketing activities but give it a few months before launching back into another Thirty Days to Conscious Success. Ideally, you will set this up as an annual activity: making one month a year your marketing month. That way you can add it to your calendar and consciously and unconsciously gear up for it. However, if you feel drawn to repeating this a few months later, don't let me stop you because each time you do it, you'll be catapulted to new levels of greatness.