Vanessa Jones, freelance copywriter
Whether you require SEO blog posts, web pages, sales copy or more, please be sure to get in touch using the quote form below.
My copywriting client schedule often books out three to eight weeks in advance. However, I do encourage you to contact me now to be added to my wait list or book in copywriting projects for 2021. Although I'm a copywriter in Adelaide, I often work with businesses and brands across Australia.

Currently there is the following wait time to book into my client schedule:
Copywriting rates and cost
You can view a range of my copywriting services for SEO, lead generation, content strategy and more as well as my copywriting rates here.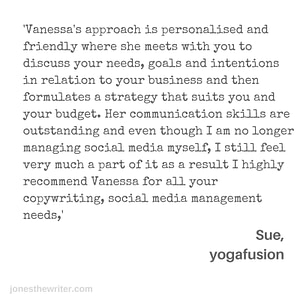 For a formal quote, please hit the button below:
I often book out anywhere from two to eight weeks in advance with my copywriting clients, so please don't leave it until the last minute! I'll always do my best to find a place in my schedule for you but I cannot guarantee availability.
I now offer a VIP get it done quick rate which has limited spacing, should you require something quickly. Find out more here.
'Vanessa has assisted us on several projects over the years including copywriting, writing and editing. She conducts herself in a professional manner and is easy to work with. Her work has been delivered prior to deadlines with clear explanations and clarification where required. Her research into the relevant topic has been impeccable and I highly recommend Vanessa as a writer, copywriter and editor,' Melissa
Gayler
, Owner, MDB Productions.